We love it when our members let us know how we've how we've helped them.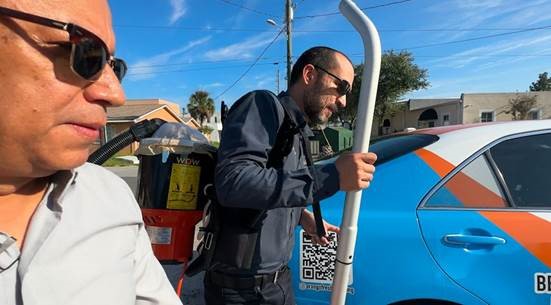 Chamber Ambassadors Nondier Arboleda and Andres Villegas and their company, Orange Fresh Cleaning, were featured today on Spectrum News.
Thank you to Maria Serrano for touring the Chamber and spending time here telling good news about St. Cloud.
What You Need To Know
St. Cloud has seen an increase in population over the last 10 years. The largest demographic has been the Latino community, according to U.S. Census data
Two cousins from Colombia ultimately picked St. Cloud as their new home to push a new business venture
Both attribute their company's success, partly to the St. Cloud Greater Osceola Chamber of Commerce
https://mynews13.com/fl/orlando/news/2023/09/20/hispanic-businessowners-talk-growth-and-success-discovered-in-st--cloud

"Since becoming a member of the St. Cloud Chamber of Commerce my business has seen a tremendous uptick in exposure, networking, relationships, and most importantly new business. As a new business owner, the SCCC has exposed my business to innumerable resources and insight to enhance my business acumen and knowledge. In my case, it only took a few days from the moment I placed my business cards at the SCCC to when I received my first call and business proposal from a long standing member of the SCCC. I'm completely satisfied and happy that I joined the SCCC and I would recommend any new or seasoned business owner to do the same. Joining an organization whose mission and purpose is to help business owners promote, network and build long standing business relationships is an investment into your business and your future."
Jorge Figueroa
Owner of Fibrenew Osceola
02/01/2023
Out and about in St. Cloud last week (1/19/23) we met with one of our newer members Alecia Fiechter of Joy Music Studios to hear how being a part of the Chamber has helped her with her business and in the St. Cloud Community. To hear more of Alecia's piano playing click the button below.
"We are excited for this new relationship! This is the Chamber at work!
     - Dana Wells, Owner, St. Cloud Levee Liquor & Gas
"those who didn't participate in the Scavenger Hunt missed a fun and challenging time.
I thought I knew St. Cloud, but found new places! Put it on your calendar for next year!
- Camille levee